A super sustainable general purpose garden twine with exceptional strength and longevity, it is soft to handle and kind to plants and meets the needs and more of the increasingly environmentally aware modern gardener. 
Undyed, Twool Naked lowers your carbon footprint in the garden.
Made from Dartmoor wool and a blend of British wool, naked is entirely manufactured in the UK. Twool naked continues doing good after its working life by releasing nitrogen as it bio-degrades on the compost heap
Good to Know:
It is made from a renewable resource.
Twool is made from rare breed Whiteface Dartmoor wool so protects and promotes one of Britain's ancient breeds of sheep. This indigenous breed has been grazing Dartmoor since Saxon Times.
Wool is regenerative - sourced from farmers who practise regenerative agriculture. Good land management promotes the environment, rotational grazing promotes higher growth rates in grass and increases the organic matter of the soil which in turn captures more carbon.
It is undyed and blended with underused naturally coloured British wool.  Wool is collected at source promoting British farming and sustainably managed small independent flocks.
UK heritage manufactured minimising road miles.
Minimal packaging which is also fully biodegradable.
Nitrogen-rich wool also biodegrades naturally over time
Removing the dyeing process saves water, energy and the dye itself
Product size: 35m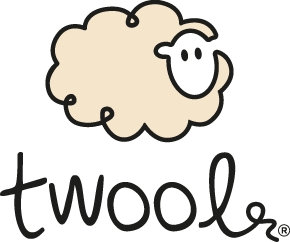 Award Winning Twine made from Dartmoor Wool
The UK currently imports around 4 thousand tonnes of jute from Asia every year into the UK. It has been Twool's aim over the past 9 years to develop a range of sustainable British made garden products using natural, renewable UK resources. 
Wool is produced in abundance in the UK and is underused, we ship most of it to China. Change must happen to save our world and small changes collectively can make a huge impact. Twool products are responsibly dyed with low impact dyes.
Super sustainable twool twine is the only home grown British garden twine there is.  Made in Devon from the wool of the rare breed Whiteface Dartmoor sheep twool twine is 100% British wool and is a versatile strong, durable and supple biodegradeable alternative to imported jute twine.
Inspired by exquisite moorland colours the range of twine colours complement flowers and plants beautifully making twool perfect for traditional garden use floristry and crafts.
"Our hope is that twool will be a modern day thread linking sheep and wool in a commercial marketplace and be a potential life-line for this rare breed sheep."