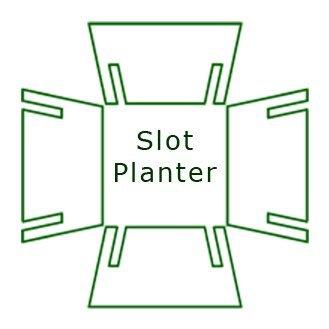 The new environmentally friendly Slot Planter® design makes an ideal, extremely durable replacement for plastic seed trays, helping reduce the use of plastics in the garden. 
Slot Planter® is an innovative alternative to plastic pots and seed trays made from MEDITE® TRICOYA® EXTREME, an extremely durable, sustainable and environmentally friendly wood panel product with a 25 year timber guarantee. 
Innovative construction and assembly process that allows flat pack shipping and a simple assembly process,
Requires no mechanical fixings, screws or adhesive glues.
Size: Size 40cm x 26cm x 10cm
Weight: Approx 1.3kg
Slot it together and it's ready for use!
In a nutshell:
The flat pack design, with reduced materials and efficient manufacturing process add to the environmental credentials, together with using a premium environmentally friendly timber board product with a 25 year guarantee against rot or decay ensures a durable product with a long life cycle.
The Slot Planter has been developed by Colin & Kay Thompson trading as "Wooden Garden Obelisk", a garden product manufacturing business based at Tuddenham Hall Estate, near Ipswich in Suffolk. The Slot Planter design was first conceived in 2016, and has now been design registered together with Patent Pending applications made through the Intellectual Property Office.