Created in collaboration with scientists at the National History Museum, this gift box contains three tins, one each of Bat Mix, Beetle Mix and Bird Mix, all containing wildflowers that are perfect for supporting these species in our gardens.  There are 20 balls per tin, approx 30 seeds per ball.  
What's in the tins:
Bat Mix- a special mix of wildflower seeds for night-scented plants (evening primrose, night scented stock) and plants with both long and short pollen tubes which attract a great diversity of insects to the flowers in the evening that are in turn food for bats. The flowers in the mix are selected to bloom during the period when bats are most active in our gardens. 
Many of our British bat species are in decline, faced with less roosting places and declining food availability. They have massive appetites, and a tiny Pipistrelle bat alone can eat over 3,000 mosquitoes a night! 

Borage, 

Cornflower, 

Corn marigold, 

Evening primrose, 

Night-scented stock, 

Wallflower.
Beetle Mix- the ideal mix to attract ladybirds and other pollinating beetles who are super important to our garden ecosystems. Did you know that many beetles are important pollinators who pollinated the first flowers 140 million years ago at the time of dinosaurs? Flowers in the Carrot or Umbellifer family (Apiaceae), and those with multiple flower heads, seem to be particularly attractive – making this mix of flowers perfect for beetles

Common knapweed, 

Cornflower, 

Cow parsley, 

Field scabious, 

Foxglove, 

Great burnet, 

Yarrow.
Bird mix- this is the ideal wildflower mix to attract all garden birds, whether they eat seeds or insects. Seedball's Bird Mix is designed to feed the birds for you, and is a much more sustainable option to buying bagged bird feed! The careful selection of plants will boost the food supply for a wide range of birds including goldfinches, blue tits, chaffinches, greenfinches, robins, starlings, increasing the number of birds seen in your garden. Whilst in bloom the flowers will attract insects that many birds feed on, while birds will also feed directly on the plants and seeds themselves. 

Common Poppy, 

Corn marigold, 

Greater knapweed, 

Sheep sorrel, 

Tufted vetch, 

Wild carrot.
How to Use Your Seedballs
Simply scatter on top of soil in a garden bed or planter.
Scatter in spring or autumn. 
Sprouts seen in 4-6 weeks.
For more info, please refer to the FAQ page here and watch the video link below
What are Seedballs?
Seed balls are a great permaculture technique for growing seed in a more simple and effective way. Growing wildflowers from seed can be super challenging - they are slow to germinate and grow, and as a result are especially vulnerable to seed and seedling predators. 
SEEDBALL's goal is to make it a bit easier for everyone to have gardens, balconies and window boxes that are bursting with native wildflowers, buzzing bees and beautiful butterflies
Each seed ball contains a mini ecosystem: seeds are mixed with clay, peat-free compost and a smidgen of chilli powder, and rolled into a small ball.
Each ball is approximately 1cm in diameter, making them super easy to scatter.
The dried clay acts as a protective casing from common seed predators (such as ants, mice and birds). 
When sufficient rain permeates the clay, the seeds inside begin to germinate - helped along by the nutrients and minerals contained within the balls. 
The chilli powder continues to deter predators while the seed ball slowly degrades and the seeds sprout. 
Seed balls will work well in most environments (as long as the seed is well suited to the local climate and soil conditions) and they'll work as well in planting pots as in garden beds.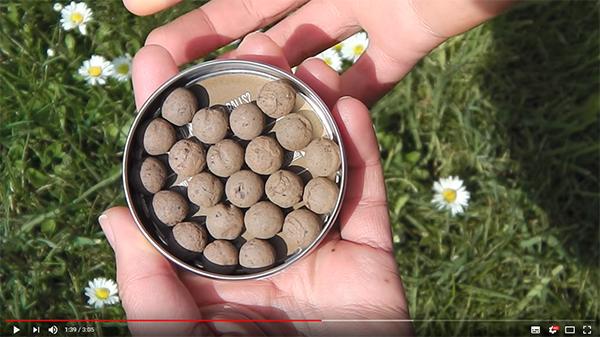 What is Seedball? 
A ball made from seeds, clay, peat-free compost and chili powder. 
Why use Seedball? 
The ball prevents the seeds from being a tasty lunch for birds and insects, thereby increasing the chances of your flowers growing. Plus they're super easy to use, no digging and no expert knowledge needed! 
What's in the tin? 
There are 20 balls in each tin, and around 30 seeds per ball. 
How do I grow Seedball? 
Just throw onto soil or compost in a garden bed or planter. Your Seedball has everything it needs to grow and, once the ball becomes moist and the temperature is right, your seeds will germinate! 
What area will my Seedball cover? 
We would usually advise 20 seed balls per square metre, or 3-5 seed balls for a 35cm container. 
Conservation: All seed is responsibly sourced in the UK from Flora Locale accredited suppliers, we only ever use peat-free compost and our steel tins are manufactured in London (with the help of a solar farm on the factory roof). 
For more details please visit the Seedball website where they have lots more tips and info about all the wildflowers
SEEDBALL say:
We care about our world and we want to do everything we can to help more people grow wildflowers in the most sustainable way possible: 
All compost used is peat-free. 
All seed is Flora Locale accredited. 
Our tin packaging is manufactured by the last tin maker in London and powered with the help of a solar farm on the factory roof! 
Tin is also highly recyclable and reusable. In fact, if you send us your empty tin and a self-addressed and stamped envelope, we'll re-fill it for free! 
Our office balcony and window boxes are filled with wildflowers (from seed balls of course!).  
Our work space is completely powered by green electricity from Ecotricity 
We donate all seed ball miss-shapes to school or community projects.  
Seedball is a trading name of Project Maya, an eco-social enterprise working to build a global network of conservation and sustainability reserves. 
We were founded by conservation and sustainability scientists, so it's unsurprising that we're also supporting further research on seed balls!