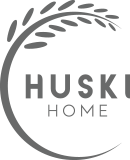 Huski Home is a family-run UK company that puts sustainability at the top of their priority list.  
We are super impressed with their new lunchbox, not only for its practicality but also for its sustainability.  They are made by repurposing discarded rice husks to create an incredibly durable material.
More Info
Made using biodegradable rice husk 
Non toxic, BPA and Silicone free
Eco-friendly and sustainable 
Layered Storage with Lockable Lid
Fold flat handy carry handles
Great for taking food when on the go 
Measures 15cm x 15cm x 9cm 
Top compartment holds 300ml 
Main compartment holds 850ml  
Comes in three colours, Duck Egg, Pistachio and Rose
Please Note
Huski Home lunchboxes are mainly Rice Husk (the most possible without them disintegrating) bound with polypropylene because its environmental impact is among the lowest of any material, synthetic or traditional, and is produced from natural polyolefin resins which allow it to breakdown and biodegrade.  
If you would like more info please take a moment to read this blog  
Did You Know?
Rice husk is a naturally strong material, built of a naturally occurring silica that can help strengthen building structures. This means it can be used in things like cinder blocks, brickwork, and other building materials and it won't collapse in on itself.
Untreated rice husk needs to be burned in order to disappear and that is terribly bad for the environment. Recycled rice husk, however, is biodegradable, meaning if you put it in the ground it will eventually dissolve. 
Resists moisture penetration.
Good insulation - due to rice husks' thickness it becomes a great insulator, meaning it's good for trapping in heat. 
Completely renewable. The best thing about recycled rice husk is that it's completely renewable. It can be reused again and again, and it won't wear down. It's incredibly resilient and can be used for a multitude of things. Better than this is that it's cheaper than wood chips and completely termite resistant.