We still find many uses for tin foil in our kitchen.  From wrapping food, to covering oven dishes, sometimes it's just what you need.  
Here's what's good to know...
About the Aluminium Foil
Made with 100% recycled aluminum. While traditional foil manufacturing is a power-intensive process, this uses 95% less energy to produce. Because there is no need to mine, the production creates less waste, while reusing a precious resource. 
If You Care Aluminum Foil protects food against light, oxygen, humidity and bacteria. It preserves the nutritional value and the quality of food.  At the same time, it also preserves taste, aroma, moisture, vitamins and consistency. It is not recommended for use with acidic or fatty foods. 
Each roll is 10m x 29.2cm wide
About the Packaging:
100% recycled unbleached cardboard
Non-toxic glues and inks
Disposal
The foil can be washed and reused and eventually recycled again and again
Packaging box should be recycled.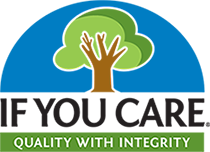 Mission Statement
If You Care kitchen and household products are carefully and deliberately crafted to have the least environmental impact and the lightest carbon footprint possible, while at the same time, delivering to the consumer, the highest quality and most effective results. If You Care is the leader in pushing the limits of environmental and social responsibility in its categories. If You Care analyzes the entire life cycle chain in developing products, from raw materials sourcing, to production process, to packaging, to disposal. Every step is considered in assessing environmental and social impacts. If You Care is committed to ethical sourcing. If You Care bases its environmental claims on the best available science, and in accord with national and international standards and regulations. If You Care backs its environmental claims with third party verification and certification by the leading national and international certifying bodies.