This 500ml turquoise insulated and leak resistant stainless steel food jar is an ideal container for keeping wet foods warm for up to 5 hours and cold up to 7 hours.  Perfect for a warming soup while out on a hike, or leftover casserole for lunch!
It is constructed from two layers of unlined 18/8 (304) food grade stainless steel and has a screw on leak resistant stainless steel and polypropylene (PP#5) lid, designed so that only stainless steel comes into contact with foods inside the jar.
designed to keep contents warm for up to 5 hours and cold up to 7 hours. 
For hot foods, pre-heating the food jar is recommend by pouring hot water into the container for a few minutes prior to adding hot food.
To pre-chill, place in the freezer a few minutes before adding cold food
Designed in France and produced responsibly in China
Free from BPA, phthalates and lead. 
Hand wash in warm soapy water
Approximately 15cm high x 9.5cm diameter.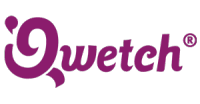 Qwetch founder Stephane Miquel was first inspired to develop a mobile tea flask while experiencing first hand the popular tea drinking culture in China. He noticed that everybody drank tea all day long - not only at home but everywhere they went: at work, at school, at the park. He launched his first product to the French market in 2012. Since then Qwetch has grown into other categories of food and drink on the go, and their range now includes stainless steel insulated bottles.
Design and quality have always been key to the development of any Qwetch product, and they have strict qualitative guidelines for their products. The products are manufactured in selected factories in China chosen for their social engagement and quality and are compliant with ISO:9001:2008 quality management system standards. 
The factories are managed very closely by the Qwetch Chinese team. Qwetch also care about protecting the health of their customers and work hard to reduce or eliminate any plastic in their products. When they do include plastic it is PP5 and is tested BPA free. 
All products in the range are regularly tested so that they pass EU, DGCCRF and FDA legal food contact tests.