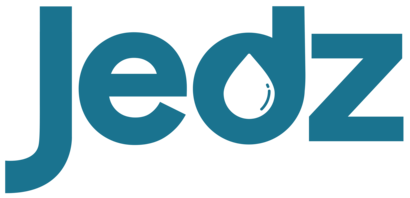 There are lots of good things we can say about our new Jedz bottles.....doubled-walled, stainless steel, leak free, condensation free, and BPA free. No leaks, no nasty chemicals, no hassle.  Just total, 100% reusable refreshment.
Yes, there are lots of lovely insulated bottles out there to choose from and they will all help us reduce single use plastic, which is of course fantastic!
So, what Makes a Jedz Bottle Any Different?
The Design 
When Jedz very kindly sent us a bottle to try out we were immediately struck with how neat it is.  It is smaller than a lot of the well known 500ml insulated bottles on the market and with its lovely flat bottom and flat topped lid it fits comfortably into your day bag.  It just has a really nice feel to it and the opening is also slighty wider than other well known designs, so perfect for slipping in the odd ice cube or two for your cold drinks.
We think it's a great price too!
Charity:Water
£1 from every single bottle purchase goes directly towards helping provide clean water for people all over the world, which means that not only are you making our planet more sustainable, you're looking after its inhabitants too.
You can learn more about Charity:Water from their website uk.charitywater.org/  
A Bit More Info:
Available in four cool colours: Orca Black, Polar White, Lagoon Blue and Sunburst Orange. 
Food-grade stainless-steel.  You know that horrible "metally" taste you get from a cheap flask?  Well, you don't get that with Jedz.
Keeps your drinks staying cold for 24 hours and staying hot for 12.
We recommend steering clear of fizzy drinks (the bottle isn't designed for the carbonated liquid)
A lot of the vacuum-based bottles you see around have a layer of glass in them, which makes them way more fragile than you'd like them to be. Jedz bottles aren't.  No glass in sight.
Packaging: recyclable cardboard presentation box
Care: Not suitable for the dishwasher. Use a neutral (ideally eco-friendly) detergent, hot water and a brush to give your bottle a clean. 
Specifications:
Capacity: 500ml
Height of bottle (including lid): 23.5cm 
Diameter of bottle base: 6.5cm 
Width of mouth (at smallest part): 3.6cm 
Weight: 290g
Jedz is the brainchild of John and Ed Thompson, and in case you hadn't worked it out yet, John + Ed = Jedz.
They are on a mission to reduce the use of SUP (single use plastic), contributing to a better and more sustainable world as a result, and they do that by providing state-of-the-art products that can be used again and again and again and again.  And again.