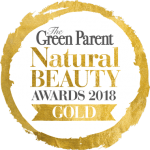 Hold on tight! Nothing beats that superfresh feeling you get from a top-quality peppermint soap, and Friendly's exfoliating poppy seeds take things to a whole new level of liveliness. 
Even the deepest sleepers can't resist the power of peppermint, and this soap really is a wonderful wake-up call. Its magic blend of peppermint essential oils and exfoliating poppy seeds creates a luxuriously creamy lather that leaves you feeling clean, polished and awake!
Each Peppermint & Poppyseed bar is handmade with Coconut Oil, Shea Butter, Olive Oil, Poppy Seeds and Peppermint essential oil.
Free from Palm Oil, Parabens, Sulphates, Triclosan, Phthalates and Cruelty.
Packed in recycled (and recyclable) packaging.
Vegan Friendly
Cruelty Free
Best rating with Ethical Consumer.
Weight: 95g
PH 8-9
Ingredients: 
Butyrospermum parkii butter, 
Sodium olivate, 
Sodium cocoate, 
Mentha piperita (peppermint) essential oil. Contains limonene
Papaver somniferum (poppy) seed
Friendly Soap are committed to producing soaps that contain no animal products or by-products. 
They are also completely against testing cosmetics on animals and are registered with Cruelty Free International and The Vegan Society. 
They use the ancient cold-process method of soap making, which creates a biodegradable soap with zero by-products. There is literally no waste. Everything gets used up and turned into lovely Friendly Soap. Striving always to minimise their  impact on the environment, they use as little energy as possible throughout production – every bar of Friendly Soap is poured, cut, stamped and packed by hand, here in the UK. 
All their packaging is 100% recycled and recyclable…and plastic-free and their parcels for delivery are packed using brown paper tape. 
Friendly Soap is made using naturally biodegradable ingredients – unlike commercial detergents that contain synthetic chemicals, that are literally flushed into our rivers. 
They are totally opposed to using harmful preservatives or foaming agents, believing there is simply no need for SLS or Parabens. The incredible silky smooth lather their natural handmade soap produces and its long life are completely down to the cold process method and their careful choice of ingredients. 
They also buy their Shea Butter from a women's worker cooperative in Ghana and the Coconut Oil in Friendly soap is not produced using slave monkeys to pick the fruit. Yes, in some places, this actually happens. By constantly scrutinising their production methods and working practices, they take little steps towards their goal of producing a zero impact natural soap and business model that benefits the planet, its animals and its people. 
The end result of all this thought and consideration? Beautifully luxurious soaps that care for you and the planet. Enjoy with a clean conscience!