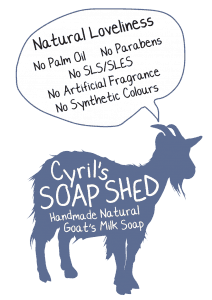 Cyril's Soap Shed Goat's Milk Soap  
Award winning handmade natural goat's milk soap made using the raw milk from the company's own small herd of happy goats, who live on a New Forest smallholding, in Hampshire.
This gorgeously creamy range of soaps are made with natural oils and butters using the ancient and traditional cold process method, using pure essential oils, herbs and root powders for fragrance, colour and texture. Each soap takes around 4 weeks to make.
Honey, Oats and Goat's Milk Soap

is made with local New Forest honey and ground oats. Oatmeal in soaps can relieve skin irritation and redness from rashes or exposure, and help reduce itchiness. Honey is highly anti-bacterial and is known for retaining moisture. Combined with the amazing properties of the Goats Milk, this soap is ideal for sufferers of Eczema, psoriasis, and dry skin.
Palm Oil Free
No Parabens or SLS/SLES
No artificial fragrance or colouring
Packed full of vitamins and minerals your skin will love! 
For hundreds of years it has been believed that goats milk has exceptional moisturising and healing properties. 
Similar pH level to human skin, and is naturally high in vitamins, minerals and alpha hydroxy acids, that nourish and rejuvenate. 
Goats milk soap works particularly well for sufferers of eczema, psoriasis and dry skin problems. 
The soaps are also excellent on normal skin, and can help prevent any problems.
Product Size: 90g
Packaging: recyclable cardboard box
Ingredients
Olive Oil, Goats Milk, Coconut Oil, Sunflower Oil, Cocoa Butter, Local New Forest Honey, Oats
Cyril's Soap Shed
This wonderful business actually came about by accident - a few years ago Catherine bought two goats to live on her smallholding with the plan that they would provide milk for the family.  The following year they kidded and started producing LOTS of milk. Despite Catherine not taking the kids away from mum, they were still providing over 8 pints a day!  Catherine learnt how to make cheese, yoghurt, ice cream and butter, and still had lots of milk left. 
She needed to find something else to make...which is where the idea of the soap started.  Determined that she wanted to do it 'properly' and from scratch she decided that the traditional Cold Process method, although more time consuming, would produce the best soaps.  
Their soaps are still handmade in her late grandfather Cyril's old shed (hence the name of the business!) and are now sold all over the UK, including in National Trust shops.