Moisturising conditioner bar - The Restoring One - for normal, dry or chemically treated hair by a fab new brand for us, Kind2.  
We were super impressed with how soft this conditioner left our hair and this 80g bar will last you for months - a conservative estimate from Kind2 is for around 80 washes!!  
What's Good to Know
Packed with coconut and cocoa butter combined with argan, macadamia and shea oils 
Fantastic to detangle, hydrate and nourish your hair 
A little bit goes a long way!
Vegan
Free from sulphates, silicones and parabens 
Free from Palm oil
pH balanced 
Aroma: Fresh, woody & subtly floral
Made in the UK
Packaging: recycled cardboard box
Product Size: 80g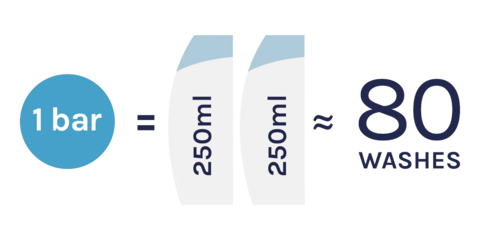 Key Ingredients
Coconut Oil, Cocoa Butter, Argan Oil, Macadamia Oil, Panthenol (Vitamin B5), Chia Seed Oil, Shea Oil, Rosalina Essential Oil
(Full list of ingredients and info on tab above)
How To Use
After washing your hair with your favourite shampoo, stroke the solid conditioner over wet hair, particularly the ends, and massage through. Rinse thoroughly.
Storage Advice
Keep out of the direct water flow from your shower 
Allow the bar to dry out between uses 
A dish or rack which allows air to circulate is perfect 
Direct sunlight won't affect the performance, but it might cause the natural colour and fragrance to fade.
Ingredients
Cetyl Alcohol - from coconuts, this is a waxy ingredient used for conditioning and softening.
Stearyl Alcohol - from coconuts, it is soothing, softening and de-tangling.
Cocos Nucifera (Coconut) Oil - from coconuts, great nourishment for hair and scalp.  
Theobroma Cacao (Seed) Butter - also known as cocoa butter, this is a fat from the roasted cocoa bean. It is a highly effective natural moisturiser and conditioner which is rich in anti-oxidants.
Behentrimonium Chloride - from rapeseed oil, this wax helps to condition, detangle, de-frizz, soften and helps strengthen hair.
Behentrimonium Methosulfate - from rapeseed oil, it's also known as BTMS. It's a very mild, yet effective conditioner, creating a silky smooth feel. 
Glycerin - from rapeseed oil, for hydrating your hair and scalp.
Argania (Argan) -  from the kernels of the argan tree, this oil is renowned for nourishing skin, smoothing and conditioning hair as it contains vitamin E and high levels of fatty acids.
Spinosa Kernel Oil
Macadamia Ternifolia Seed Oil - from the nuts of this Australian native tree, this light and easily absorbed oil contains high amounts of fatty acids and also contains squalene, which is a natural antioxidant.
Panthenol (Vitamin B5) - helps your hair retain moisture by sealing the cuticle, enhancing shine and glossiness.
Salvia Hispanica (Chia) Seed Extract - from the seeds of this Central American native tree, chia seed oil is rich in fatty acids, protein and zinc to promote hair health and growth.
Leuconostoc/Radish Root Ferment Filtrate - a natural preservative created by fermenting radish roots with bacteria.
Stearic Acid - a plant based emulsifier that is used to condition and thicken. Kind2 are using a palm free source.
Calcium Bentonite, Sunstone Powder - also known as Australian washed blue clay, it is used for washing impurities away as it regulates sebum flow and cleanses hair follicles.
Kaolin - also known as China Clay, it's a fine powder which is gentle and oil absorbing.
Butyrospermum Parkii (Shea) Oil - from the nut of the African shea tree. Lighter than shea butter and being rich in fatty acids, it's great for adding shine.
Cannabis (Hemp) Sativa Seed Oil - Cold pressed from hemp seeds, this oil is high in fatty acids and benefits include hair strengthening and alleviating scalp dryness.
Melaleuca Ericifolia (Rosalina) Leaf Oil - from the leaves of this Australian native tree, the fragrance is fresh, with subtle lemony and floral tones. It is a gentle oil with anti-bacterial properties.
Benzyl Alcohol - a plant based preservative used at a very low concentration for its anti-bacterial and anti-fungal properties.
Salicylic Acid - a preservative from the bark of willow trees.
Sorbic Acid - a plant based preservative used at a very low concentration for its anti-bacterial and anti-fungal properties. 
Eucalyptus Radiata Flower/Leaf/Stem Oil - from the leaves of this Australian native tree, the fragrance is pleasant and fresh. It has both antifungal and antiseptic properties that help with itchy or flaky scalps.
Limonene*, Linalool*. * Naturally occurring in essential oils