If You Care Compostable Food Waste Bags are made from potato starch from non-GMO starch potatoes blended with a certified, fully compostable polymer. No plasticizers are added.  
Perfect for collecting food scraps and food waste for use with kitchen counter compost.
Contents: 30 bags: 43cm x 39cm x 16cm , 11.4L capacity
What Makes Potato Starch Strong? 
Starch is a mixture of a linear (amylose) and a branched (amylopectin) polymer of glucose. Potato starch has a higher percentage of amylopectin than either corn or wheat starch. Amylopectin gives starch its structural integrity, so it helps make these bags stronger than those made from corn starch. 
Any Other Reasons for Potato Starch? 
The potato starch used to make these bags comes from starch potatoes, which are not grown as a food source, but only for starch production. These potatoes are too high in starch to be good for food. Therefore, there is no diversion from food supplies. In addition, to produce the same amount of starch from these potatoes as from corn requires 40% less land. Other compostable bags are made from corn which requires more water, but potatoes require no irrigation, and need only normal rainfall. 
Why Use If You Care Compostable Waste Bags? 
Approximately 80 million tons of waste (U.S. EPA figures) which goes to landfill annually is material which under the right conditions, can be turned into compost, including food scraps, garden trimmings and non-recyclable paper. In a landfill environment, this trapped organic material (leaves, grass etc.) releases methane gas – a greenhouse gas – contributing to global warming. Diverting food scraps and garden trimmings from landfill to compost facilities – either municipal or commercial in areas where available – contributes significantly to preserving our planet and natural resources. 
Packaging: Box made from 100% recycled cardboard, processed chlorine-free.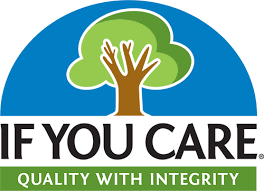 Mission Statement
If You Care kitchen and household products are carefully and deliberately crafted to have the least environmental impact and the lightest carbon footprint possible, while at the same time, delivering to the consumer, the highest quality and most effective results. If You Care is the leader in pushing the limits of environmental and social responsibility in its categories. If You Care analyzes the entire life cycle chain in developing products, from raw materials sourcing, to production process, to packaging, to disposal. Every step is considered in assessing environmental and social impacts. If You Care is committed to ethical sourcing. If You Care bases its environmental claims on the best available science, and in accord with national and international standards and regulations. If You Care backs its environmental claims with third party verification and certification by the leading national and international certifying bodies.