Circular Cup is the world's first reusable coffee cup made using recycled single-use paper cups. Designed with practicality and circularity in mind, their sustainable travel mug is 100% leakproof (we can vouch for that through our testing!), providing peace of mind whilst you're on the go. 
Key Features
Designed for 10 years use, Circular Cup is 100% recyclable. 
The world's first, 100% leakproof reusable coffee cup, the outer layer is made from recycled single-use paper cups* 
Insulated - keeps your drink hot or cold for 60-90 minutes. 
Unique push lid mechanism minimises spills and offers one-hand opening, perfect for life on the go.
360 Degree drinking, allowing you to enjoy the full coffee aroma. 
BPA & melamine free. 
Dishwasher safe (but please dont put in the microwave)
Every purchase of a Circular&Co. Reusable Coffee Cup funds a sustainable solution to global waste.
Size: 12oz/340ml
Height With Lid On: 168mm / Height With Lid Off: 140mm / Lid Diameter: 84mm / Base Diameter: 64mm
Suitable for most car cup holders & coffee machines
Care Guidelines and info leaflet are included with your cup, with details of the Circular&Co. takeback promise (for recycling), spares purchasing and 2 year guarantee. Incidentally we love that Circular&Co. make it really easy to buy spares should you need them!
Made in the UK from UK waste.
Turning products that last 10 minutes, into 10 years.  The Future is Circular.
****************
*We have been following the journey and admirable progress of Circular&Co. (incorporating ashortwalk ltd) since we started the shop.  We love their sustainable solutions for home and garden (such as their plant labels and bird feeders made from recycled plant pots). 
We were thrilled to hear that their vision of bringing their (formerly rCUP) insulated coffee cups back to Cornwall from China for production has now become a reality. Now rebranded as Circular Cups the next phase of their production is well underway and they are working with major UK retail brands to secure enough recycled food grade plastic from the market for them to process and reuse.  They hope to release the world's first 100% recycled cup in the very near future.
In the meantime, yes, the cups do contain a % of BPA-free virgin plastic but we whole heartedly applaud the circular design and vision of this company.  We are excited for the next phase!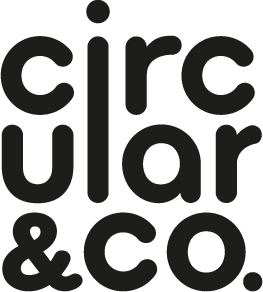 Circular&Co. are pioneers of Circular Design. 
Since 2003 they have been creating circular products because they know it's a sustainable solution to righting our global wrongs. They firmly believe that the world needs change, and people, communities and companies must create it. The Circular Design Movement relies on everyone valuing resources, designing them to last as long as possible and preventing waste from contaminating our natural environment. 
Circular products are designed to live longer lives. They are made from materials that have been used before and are designed to be easily regenerated for continual reuse. As well as their range of award-winning products with a distribution network spanning across 38 countries, they advise, develop, and deliver circular solutions for global brands worldwide, reinventing today's waste into tomorrow's Circular products.
The future requires solutions. The Future is Circular.