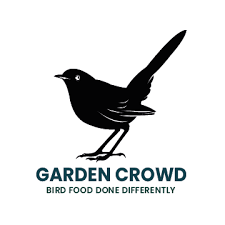 Garden Bird Food Done Differently
Garden Crowd love birds.  They are a sustainable social enterprise and use their profits from selling the best wild bird food you can buy, to support Urban Birds, Greenspaces and connecting people with nature.
They work with community groups in Glasgow and beyond to bring birdsong back to towns & cities.
When you buy Garden Crowd's bird food you are supporting their social missions.
Helping Birds Over The Winter Months
The cold weather can be harsh on our health and it is no different for the birds. Blue tits can lose up to 20% of its own body weight overnight in the Winter. Goldcrests have to eat every 4 minutes they are awake. Blackbirds and Thrushes struggle to find food on frozen grounds. At this time of year, small birds need lots of fat, protein and carbs so they can stock up on energy to get them through the night. 
Garden Crowd have developed this special Autumn Winter mix to hit all those notes in a birds diet and help support them to survive.
What Makes Garden Crowd Bird Food So Special?
Garden Crown birdseed is 100% natural, nutritious and plastic-free. They blend their seeds from natural ingredients grown on sustainable farms and they hand blend all their seed mixes in Scotland.
Their food lasts longer because it is not full of wheat and cheap fillers. 
It is made to mimic a small garden bird's natural diet, with a balance of high-energy foods, rich oils, proteins and fats

Contains: 

Sunflower Hearts, 
Canary Seeds, 
Rapeseeds, 
Kibbled Peanuts and 
Mixed High-Fat Suet.

You can add their mixes to bird feeders, bird tables, window feeders or a ground feeding tray
Loved by Tits, Sparrows, Robins, Thrushes, Dunnocks, Finches & Siskins
Weight: 1Kg
Plastic Free Pledge
Garden Crowd are the only bird food company in the UK to have packaging that can be more than just recycled. 
They offer a truly zero-waste alternative that can be composted in 10 weeks. 
Their bags are plastic-free and biodegradable; made from recycled pulp and cellulose they keep their bird food fresh for up to 6 months but can be composted to nothing in 10 weeks.
Their labels are printed onto recycled pulp paper with ethical inks and non-toxic adhesives 
They use all recycled pulp paper for their inserts, leaflets and thank-yous which are printed using ethical inks and can also be popped into the compost or recycling bin.
Why are Urban Birds Different?
When we talk about Urban Birds we mean small garden birds, without the luxury of living in a lovely rural garden. 
They are birds that exist in our suburban areas and cities – but they are struggling to live there. City birds do not have the same quality of life as their rural cousins. 
There are lots of studies that show that Urban Birds, the ones that actually live in our urban towns and cities, have a more stressful life. Then there's the declining numbers because of habitat loss. Take a built-up urban street – how many birds do you hear? Probably a few cheeps, which might increase if you have trees on your street, but really this isn't enough. 
By purchasing this bird food you are helping Garden Crowd support Urban Birds by doing a few things: – 
Promoting the need for green habitats and spaces and creating living cities and wildlife corridors 
Providing bird food in areas that are deprived of natural resources, so that birds who live their have a stronger chance of surviving 
Helping communities to create eco-systems that support birds, wildlife and us 
Promoting the link between nature and humans and how multi-species environments are good for us all